Surgical Tables
---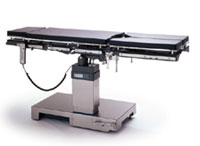 ASC 2000™ Ambulatory Surgical Care Table
The ASC 2000 is a high quality built surgical care table, meeting good manufacturing practices standards and all international regulatory requirements. It provides electro-hydraulic powered, full anthropometric posturing with accessories for all ambulatory surgical procedures, and will also accommodate many previously owned accessories.
---
Amsco® OrthoVision® Orthopedic and Fracture Table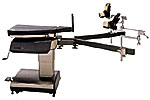 The Amsco OrthoVision Orthopedic and Fracture Table is a mobile, orthopedic table offering a new level in surgical imaging. It provides flexible, easy to use, articulated posturing of patient for reconstructive and reparative orthopedic procedures. OrthoVision folds into a neat, compact package when not in use, facilitating easy transfer and storage.
---
Amsco® 3085 SP™ Surgical Table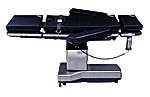 The Amsco 3085 SP Surgical Table combines innovation and design to create exceptional positioning for patients weighing up to 1,000 lbs. You can safely raise and lower larger patients in both normal and reverse orientation and have virtually the same positioning capabilities as with other patients.
The Amsco 3085 SP Table offers the same quality, reliability, and flexibility you've come to expect in all of our surgical equipment products.

Unprecedented versatility for every surgical specialty

Designed for flexibility in patient positioning

Exceptional image amplification (IA) coverage

Built-in safety and reliability

Twelve month parts and labor warranty.
---
Cmax™ Surgical Table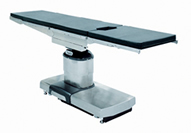 STERIS is proud to introduce the Cmax operating table that combines all the positioning capabilities of a general surgical table with the radiolucence and precise mobility of an imaging table, making it the most advanced, versatile surgical table on the market. The Cmax table is designed to support advancements in surgical procedures and imaging techniques and has six patented innovations, truly separating it from all other tables:
ZIP SLIDE™ (patent pending): 18" (454 mm) of tabletop slide maximizes C-arm access.

INTELLI-POWER™ (patent pending): truly independent dual power modes that also provide continuous auto-diagnostics.

HI-LOCK™ (patent pending): allows for quick and easy removal of the leg section with safety lock feature.

AUTO LIMIT SENSOR™ (patent pending): informs and prevents sectional articulation conflict.

KIDNEY™ (patent pending): extremely compact, motorized, radiolucent kidney elevator.

E-SERVE™ accurately diagnoses and/or repairs your equipment.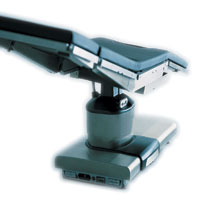 The Cmax table accommodates a wide variety of surgical positions, including Lithotomy, park-bench, supine, sitting, shoulder arthroscopy, urology and gynecology. It also has the following specifications:
Sliding top: 18" (454 mm)

Height: 26"- 45" (675 mm - 1136 mm)

Trendelenburg/Reverse Trendelenburg: 30°

Lateral tilt: 20°

Back section: -40° / +90°

Leg section: -105° / 0

Patient Weight Capacity (lift and articulation): 900 lb. (400 kg)
---
HERMES-Ready™ Amsco® 3085 SP™ Surgical Table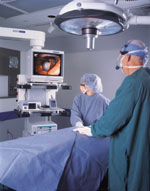 The Ideal "Intelligent" Solution for All Operating Rooms

The new HERMES-Ready Amsco 3085 SP Surgical Table provides state-of-the-art voice-activated computer 'intelligence' capability. The table can now be networked with the HERMES Control Center (available from Computer Motion, Inc. and Stryker Endoscopy) to allow the surgeon direct control over patient and table position. The surgeon uses either simple voice commands or a hand-held touch screen pendant to adjust patient position at any time during a procedure. The HERMES Control Center also provides video and audio feedback to the OR staff on demand.

---
SurgiGraphic™ 1027 Image Guided Surgical Table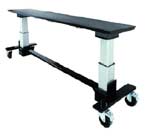 The SurgiGraphic 1027, with a Carbon Fiber Top, is a heavy-duty table specifically designed for superior C-arm access, safety and reliability. Our exclusive C-Arm friendly design means C-Arm utilization is quick and efficient. Faster procedures mean radiation exposure is minimized resulting in a safer environment for both the patient and the O.R. staff.
---
SurgiGraphic™ 6000 Image Guided Surgical Table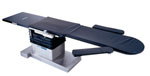 The SurgiGraphic 6000 lets you manually glide the tabletop for precise positioning. The superior 4-Way Float allows for immediate and exact positioning without moving the C-Arm, making it especially effective for the many minimally invasive procedures:
Endoluminal Stent-Grafting

Abdominal Aortic Aneurysms (AAA)

Pain Management

Intraoperative Angioplasty

Cardio/Endo Vascular

Coronary Angiography

Mid CAB

Mini CABG

MIS Orthopedics
---
| | |
| --- | --- |
| AMSCO 280RC Surgical Table | AMSCO 2080M Surgical Table |