Anesthesia Machines
Autoclaves
Defibrillators
Electrosurgical Units
Endoscopes
Surgical instruments
Neurosurgery
Surgical Lights
Surgical Tables
Surgical Microscopes
Suction Pumps
Vaporizers
Ventilators

Agent and CO2
Cables
ECG Monitors
Multi-Parameters
N.I.B.P.
Pulse Oximeters
Oxygen Monitors
Portable Ventilator
Volume Monitors
Ventilators

Incubators
Infant Warmers
Monitors
Photo Therapy

Portable X-ray
Mammography
Suction Pumps




---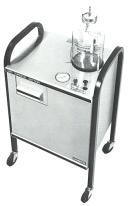 Gomco 3810 Suction Pump
The surgical pumps are engineered for control of suction in surgical and delivery-room service. A conveniently located gauge and regulating valve provide simple control. All models include a hospital-approved three conductor cord. This mobile unit utilizes one 2800ml glass collection bottle, ideal for major surgery. An oilless, maintenance free diaphragm pump gives hours of continuous high flow/high vacuum level use.
---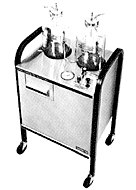 Gomco 3840 Suction Pump
Model 3840 is designed for larger collection capacity, where required, with easy to operate lever control that brings second collection bottle into immediate use. Both 2800 ml glass collection bottles can be sterilized by all normal means, including steam autoclaving. This unit features the same high flow/high vacuum level maintenance free diaphragm pump as described in Model 3810.
---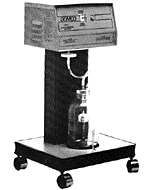 Gomco 6000/6003 GI Drainage Unit
The Gomco 6000/6003 is durably engineered to provide suction by alternating the expansion and contraction of air within a cylinder at regular intervals. Pump is designed to operate with no moving parts for quieter use.
---
Gomco Model 405/4005 Portable Aspirator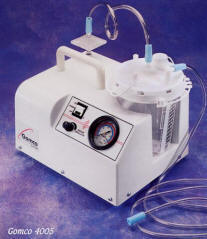 Gomco portable aspirators are designed to provide suction that is available when you need it. These units are engineered to supply high performance suction capability at a moment's notice.

The Model 405/4005 is designed for general suction use, from emergency room to recovery room, or for outpatient or dental clinic use. Is is invaluable for removing mucus from the throats of newborn infants and postoperative patients, for bronchoscopic suction, and for many other bedside uses. The unit is lightweight and compact for convenient storage. The suction system includes a gauge and suction regulating valve that will create up to 25" Hg vacuum. This unit is UL/ULC listed and includes a hospital grade plug, graduated 1200 ml glass collection bottle or 1500 ml disposable canister, and filter to help prevent fluid and aerosol contamination.
---
Gomco Optivac Portable Vacuum
The OptiVac was created to service a variety of today's medical environments. OptiVac's compact design, ease of operation, AC power supply, rechargeable battery and self-contained elements are only a few of the advanced features.
Completely self-contained. Minimizes potential contamination or damage to the compressor and battery

Easy to clean, sealed surface made from quality engineered thermoplastic allows for fast, effective cleanup

550 mmHg vacuum coupled with 32 LPM open flow provides powerful suction for faster aspiration

Long life rechargeable battery eliminates the need for frequent replacements

Adjustable DCU strap allows you to use and secure from 800 to 1500cc unit collection canisters

The optional OptiVac carrying case gives you increased portability. Simply open the carrying case and operate the unit from the case for patients requiring immediate care

OptiVac is UL approved and made in the USA, assuring you and your patients that all quality standards are met
---
Gomco 400 Aspirator

This model is invaluable for removing mucus from the throats of newborn infants and post-operative patients, for proctological and bronchoscopic suction, and for many other uses.

Gomco 270 Portable Gastric Pump

The Gomco 270 is designed for gastrointestinal drainage in the home, nursing homes, clinics or hospitals.