The Fetal Assist is one of a family of modular products using a common platform – Dopplex Assist.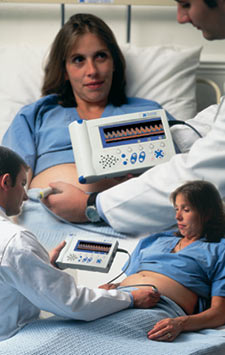 Dopplex Assist – the concept: Dopplex Assist is a unique hand-held, battery operated, portable, medical grade, computer incorporating a colour graphic display and touch-panel overlay for entering data. It also includes a wide range of data input/output devices including an industry standard PC card slot to support modem, memory and network cards, signal input/outputs, a smartcard reader and an audio system with integral loudspeaker.
Dopplex Assist provides the platform for a range of applications, defined by a plug-in module which contains application specific sensor / transducer inputs, front-end signal conditioning circuits and application software.
Inserting the CTG module into the Dopplex Assist automatically configures the system as a full specification CTG – the Fetal Assist. Other modules in the Dopplex Assist range include the Cordflow Assist spectral Doppler.