Anesthesia Machines
Autoclaves
Defibrillators
Electrosurgical Units
Endoscopes
Surgical instruments
Neurosurgery
Surgical Lights
Surgical Tables
Surgical Microscopes
Suction Pumps
Vaporizers
Ventilators

Agent and CO2
Cables
ECG Monitors
Multi-Parameters
N.I.B.P.
Pulse Oximeters
Oxygen Monitors
Portable Ventilator
Volume Monitors
Ventilators

Incubators
Infant Warmers
Monitors
Photo Therapy

Portable X-ray
Mammography
Huntleigh Fetal Dopplex

Fetal Dopplex FD-1

Fetal Dopplex II – FD2

Audio Dopplex – D920

Obstetric Dopplers: Based on over 20 years experience in this field, the latest generation of the world renowned Dopplex handheld Doppler range offers even greater performance, quality and value for money.

The new high sensitivity probes are 50% more sensitive and ensure reliable detection of fetal heart sounds, with significantly improved detection at all stages of pregnancy. Together with enhanced audio, this delivers the very best in ease of use and convenience, backed up by the same quality, reliability and service that have established the Dopplex range as the product of choice over many years.

New probe design with 50% greater efficiency

Improved sensitivity for reliable detection in early gestation
Improved performance on 'difficult' mums (i.e. in obesity)

Waterbirth monitoring capability now standard on D920 and FD1
High sensitivity 2 & 3 MHz obstetric probe options for optimum performance from early gestation right through to delivery
Enhanced battery power management
New carry case includes space for sphyg, cuff & urine test kit
Accessories now include a new battery charger kit and pole stand
Huntleigh Maxi Dopplex II Bi-directional Desktop Doppler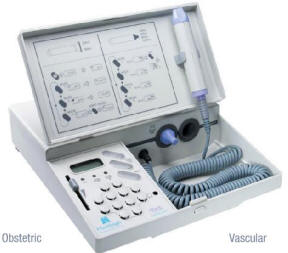 The Maxi Dopplex 200 desktop 200 unit has all features and functions of the multi Dopplex II hand held except that it operates on mains power or from its integral rechargeable battery. It is compatible with the wide range of High sensitivity Doppler probes and can provide waveforms using the optional Dopplex Reporter software or the optional Dopplex Reporter software or the Dopplex Printa II package.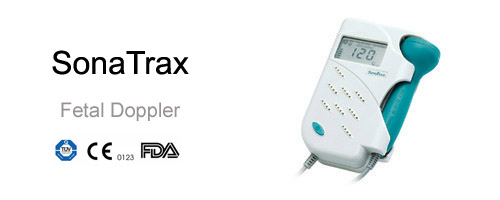 SonoTrax Fetal Doppler can meet the routine examination requirements of obstetricians, midwives and pregnant woman themselves. SonoTrax Lite is for simple auscultation (intermittent listening). SonoTrax Basic is a high performance model with FHR digital LCD display. SonoTrax Pro has backlight and audio playback. SonoTrax Vascular Doppler can use 4MHz or 8MHz probe for vascular diagnose. All these models have audio output, and can connect with earphone or recorder with audio input.
Features:
Ergonomic design, compact and light

Easy-to-use

Accurate FHR detection, large LCD display and clean sound

High sensitivity interchangeable probe

Automatic and manual FHR Counting

Long time continuous use (4 hours)

Automatic power-off

Optional rechargeable battery and charger