Defibrillators
---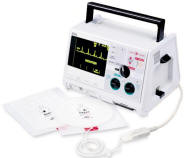 Zoll M-Series Defibrillator
The smallest, lightest, most advanced defibrillator monitor ever made, with all the capabilities you'll ever need! Only 11 pounds (5kg). Half the weight and a third the size of any unit in its class, the M Series has everything you need for cardiac resuscitation: fast, easy to use defibrillation, external pacing, ECG with advanced monitoring, built-in AC or DC power, and an integrated information management system.
---
ZOLL M Series Interpretive 12-lead ECG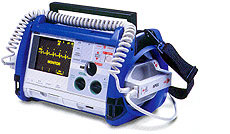 The ZOLL M Series provides total diagnostic and therapeutic capabilities in a small, lightweight unit with a high contrast display. The M Series includes easy-to-use defibrillation, external pacing, interpretive 12-lead ECG, SpO2, EtCO2, built-in AC or DC power
and a complete data management system.
---
ZOLL M Series the most Choices for ETC02 Monitoring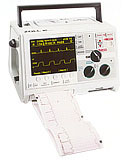 The ZOLL M Series with Respironics Novametrix End Tidal CO2 Monitoring is designed for maximum ease of use in pre-hospital and hospital settings. Interchangeable, lightweight Mainstream and Sidestream sensor options allow you to manage and monitor every patient as you see fit.
The M Series is the only defibrillator to offer "Plug-and-Play" Mainstream and Sidestream EtC02 technologies on one device.
Users can easily switch between Mainstream and Sidestream as one operating mode covers both intubated and non-intubated patients (neonate to adult).
---
M Series Pulse Oximetry —Advantages with Critical Patients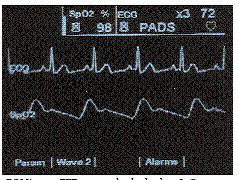 The ZOLL M Series incorporates an innovative technology to overcome the limitations of conventional pulse oximeters for accurate and reliable SpO2 measurements when they are needed the most. Masimo's SET® unique signal
processing algorithm provides:
More accurate measurements during motion

Fewer false alarms

Reliable SpO2 values during external pacing

Improved oximeter performance with patients in shock and low perfusion

Combined adult, pediatric and neonatal capabilities

Monitoring of both ECG rate and pulse rate when pacing
---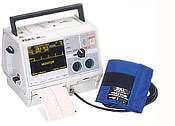 Defibrillator Monitor Pacemaker with Non-Invasive Blood Pressure (NIBP)
M Series defibrillators with integrated non-invasive blood pressure provide accurate readings in a semi-automatic and manual modes. Combined with optional Sp02, 12-Lead ECG and EtC02 monitoring, the M Series with NIBP is the easiest to use total resuscitation device.
---

ZOLL PD 2000 Advisory Defibrillator/Pacemaker
The ZOLL PD 2000 Advisory Defibrillator/Pacemaker is the first device designed as a completely integrated system for early defibrillation and advanced cardiac life support in the hospital. The built-in ventricular fibrillation detection system eliminates adapters and a "paddle free" electrode system is easily applied to speed shock delivery and external pacing.
---
M Series CCT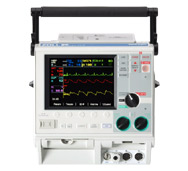 When you're transporting critical care patients, defibrillation is a capability you need to have on hand. But you also need to keep track of crucial vital signs along the way. The M Series CCT brings together ZOLL's superior biphasic defibrillation, external pacing, complete monitoring, multiple application printer and a large full-color display in a single portable unit.
The M Series CCT features a three-channel display for ECG and up to two invasive pressures with ranges covering arterial, pulmonary arterial, central venous or intracranial pressure as well as two temperature channels. Of course, it also provides you all the non-invasive parameter options of the M Series including SpO2, EtCO2, NIBP and fully interpretive 12-lead ECG.
---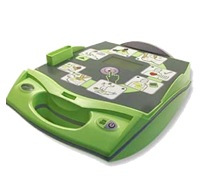 AED Plus
The AED Plus is more than a defibrillator. ZOLL has developed a full resuscitation device which not only delivers a shock to a patient when necessary but it also reinforces your CPR training by voice and visual prompts going through all of the steps to CPR.


---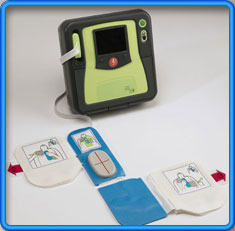 ZOLL AED Pro
Designed with advanced capabilities, the ZOLL AED Pro supports Basic Life Support as well as Advanced Life Support professionals. A high-resolution LCD display allows responders to visualize a patient's ECG while utilizing a 3-lead monitoring cable. Unique to ZOLL defibrillators is a real-time feedback mechanism that allows rescuers to see and hear how well they are performing the rate and depth of chest compressions during CPR.